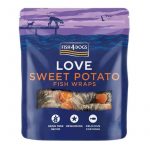 Fish4Dogs Love Sweet Potato Wraps
The 'Love' category contains a range of deliciously different treats, that are great for owners who just want to show their dogs they are loved. Interesting, intriguing, different and delicious.
For you, the owner, a chance to indulge your pet with these gourmet dog treats.
Rich in marine sourced Omega 3 ideal for healthy, shiny coats and supple joints and a highly digestible protein low in saturated fats and sugars