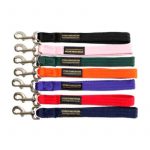 Ultra Short Dog Leads and also Used for Recall
Exclusive Doglistener short dog leads as a house or large dog lead. These can only be bought from this website. Soft yet amazingly strong with man size clips that will not break under any strain.
Description
Additional information
Description
Ultra Short Dog Leads and Also Used For Recall
This is not my normal full length lead.
Please note these leads are only 13 inches long and are for large dogs or recall training.
They are used as house leads, or for recall leads when you remove the long recall and standard Jingler lead. This is clipped on so the dog thinks the lead is still on
They are also ideal for larger dogs Labradors and above when you need to keep them close and tight. This dog lead comes in a variety of colours
13 inches or 33 centimetres long. can be popped in pockets easily. The leads are made from ultra strong cushion web. They are all fully machine washable as are all the leads and collars.
The feel of this lead is very different to any other type you may have handled. It does not burn your hand and feels soft though incredibly strong.
They come in seven vibrant and attractive colours. Black, Baby Pink, Green, Orange, Purple, Red and Blue  These are brilliant for attaching to any dog as a house lead or for the larger dog when outside if you want the dog right next to you.
See my Longer Leads for training walking to heel. Click on the picture right to go to a larger image of the leads.