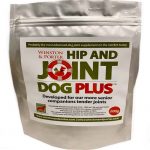 Description
Additional information
Brand
Description
Hip and Joint Dog PLUS ™ This is like the hip and joint rescue but with added Oooomph
It is now one of the most effective canine joint supplement on the market today. 
It contains a Quadruple Strength combination high measure of  Glucosamine, Chondroitin, MSM  and Hyaluronic Acid (HA) plus a natural ANTI INFLAMMATORY and PAIN RELIEVER called Serrapeptase.
Serrapeptase is a proteolytic enzyme produced by the silkworm which can make your best friend much more comfortable and able to go about their daily life more easily.
Is great for injured dogs, dogs in pain and our more senior companions
Hip and Joint PLUS supports long term hip and joint health and encourages mobility for your best friend.
Proven QUADRUPLE ACTION for very active dogs, sports dogs,  working dogs, dogs with tender joints, older dogs and those that are feeling stiffness. 
Contains:
1. High Strength Glucosamine for dogs (HCL) – Glucosamine assists the repair of your dog's cartilage and is the actual joint lubrication.
2. High Levels of Chondroitin for dogs- Chondroitin attracts fluid to your dog's joints to lubricate the dry cartilage.
3. High Levels of Methylsulfonylmethane (MSM for dogs)
4. Hyaluronic Acid (HA) – HA is a gel-like water-holding molecule that is the space filler and cushioning agent in all mammals. HA cushions joints, nerves, hydrates skin and hair. It works as a shock absorber lubricating the fluid in the joint tissues as well as stabilising its breakdown.
Encourages healthy tendons, ligaments, cartilage and Assist with dog joint stiffness and mobility.
Together, these SUPER 4 ingredients form a binding agent which means less of the Essential ingredients are excreted from the body. So, more of the good stuff stays to do its job.
A 5ml plastic scoop is provided in the pouch to measure out the correct amount of product. A level scoop is approximately 4.5 g
Feeding guidelines: After measuring the correct amount, sprinkle on to food and mix in. 
200g
Additional information
| | |
| --- | --- |
| Weight | 0.200 kg |
| Product information tags | |
| Stock Threshold | |
| Product reference | |