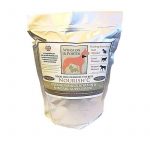 Nourish C+ Premium Multi Vitamin and Coat Supplement
Email when stock available
Description
Additional information
Brand
Description
One of the best multivitamin and mineral supplements for dogs on the market today.
Contains: High Levels of MSM for dogs. High in Omega 3's Pre and Pro-Biotics for Excellent gut and digestive health
18 of the 22 Amino Acids, including ALL 9 Essential Amino Acids
Multi-Vitamins for dogs – It is recommended that dogs have 37 essential vitamins and minerals in their diet to achieve optimum health.
Nourish + C has 46 including the 37 essential multivitamins and minerals for dogs!
Our canine nutritionist has created a very unique natural dog food supplement which has many other benefits too.
For example, Nourish + C has:
More omega-3 fatty acids than salmon
A wealth of Antioxidants and Minerals
A complete source of Protein
More fibre than flaxseed
Benefits:
Healthy Shiny Coat (assists dog grooming)
Strong Healthy Bones and Joints
Healthy digestion
Optimum Condition
Wellness and Vitality from the Inside Out
GLUTEN & WHEAT FREE
Feeding Instructions:
Small dog (0-15 kg eg. Jack Russell)  Half measure per day (20 grams approx)
Medium Dog (15 – 40 kg eg. Spaniel)  Level measure per day (40 grams approx)

Large Dog (40 kg + eg. German Shepherd) Heaped measure per day (60 grams approx)
**CAN BE USED FOR A DOG FROM 6 MONTHS AND UPWARDS**
Additional information
| | |
| --- | --- |
| Weight | 1.8 kg |
| Display settings | |
| Stock Threshold | |
| Product reference | |